Chairman of the Federal Reserve now has no bigger friend in Washington than a certain Democratic senator and 2020 candidate, as this op-ed notes
Remember conservative hero David Souter?
Neither do I — but due to no fault of its own, the Right hailed him as a home-run nominee for the Supreme Court during the beginning of the Bush I presidency.
Souter didn't have much of a record, having served on the 1st Circuit Court of Appeals for just a few months before his successful confirmation.
But his rhetoric had a way of making conservatives blush.
It turned out that Souter was a wolf in sheep's clothing. A far cry from the conservative hero he seemed to play on camera, he became one of the staunchest liberals on the court. Throughout his 19 years on the bench, he took anti-religious freedom and pro-abortion opinions that made Ruth Bader Ginsburg and Stephen Breyer look like textualists by comparison.
He quickly became an embarrassment to former Bush administration officials as well as his many early conservative backers across the 50 states. Souter retired 10 years ago now (he served from October 1990 until June 2009), but his legacy and impact remain as strong as ever.
Today, the Trump administration has a "David Souter" figure of its own. His name is Jerome Powell (shown above left).
In November 2017, President Donald Trump nominated Powell to chair the Federal Reserve. He received the trust of the president and the Republican-controlled Congress for suggesting he would to take up the priorities of many limited-government advocates — including deregulating the financial sector from the post-Great Recession creep of socialized control.
Related: Trump Nominates Jerome Powell to Chair Federal Reserve
His spoken desire to cut red tape drastically was enough to draw the outspoken ire of Sen. Elizabeth Warren (D-Mass.). She delivered a pointed floor speech against his nomination and grilled him during his confirmation hearings in made-for-YouTube video clips.
Today, however, Powell has no bigger friend in Washington than Warren herself. In late July, Warren introduced legislation to put more control of the private economy into the Federal Reserve's hands. Just 15 days later, Powell's Fed announced plans to give her everything she asked for: a bureaucrat-ran real-time payments system.
The term "real-time payments" means exactly what one would guess: It's an immediate bank transfer of funds. Without a doubt, it's a good thing to have if left to the free market.
However, to centralize control, Warren and Powell appear fine with taking away the keys from the private-sector companies that already have the ball on the field.
Likely costing upward of $1 billion, the Fed's system will not be compatible with private-sector alternatives and will slow-roll innovation for at least 3 to 5 years. It has even been said to violate the Monetary Control Act, which stipulates that the Fed can only get involved if the private sector can't deliver.
Trump calls Fed Chair Jerome Powell "clueless" and blames his policies for signs that a recession is looming https://bloom.bg/2z18qPK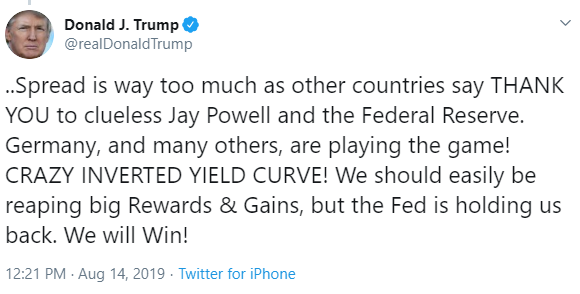 404:47 PM – Aug 14, 2019Twitter Ads info and privacy58 people are talking about this
Of course, none of these points are concerns for Warren, who wants as much of the financial sector under bureaucrats' control as possible. They should matter to Powell, though — the man who was confirmed in large part due to his desire to unleash the free market in the banking industry.
Although Trump seems to criticize Powell's Fed every other week on Twitter, never before has the Fed chairman so blatantly defied the deregulatory agenda of the man who nominated him.
Somewhere, David Souter is laughing — laughing at how Powell, once a public enemy of the Left, is now doing its bidding. He is advancing Elizabeth Warren's agenda and even receiving praise from the likes of Rep. Maxine Waters (D-Calif.).
While things are bad enough already currently, the White House, to protect itself, should forecast what could come next.
As the president correctly pointed out in 2016, in the past, the central bank has often acted more politically than partisan politicians. Time and time again, it has seemingly manipulated interest rates to tip the scales in favor of Democrats during election cycles. Who's to say that Powell's Fed hasn't thought about doing so already?
Trump needs to act as swiftly here as he has in past cases of disloyalty.
Most political scientists agree there is only one person in the country who rivals the commander-in-chief in terms of power in this country, and that's the chairman of the Federal Reserve. As such, having a Benedict Arnold figure in that post is incredibly dangerous.
To protect his impressive economic record and to prevent the Fed's real-time payments system from going into effect, Trump must use every piece of leverage and authority he has to keep the Fed in line and hold Powell to his past rhetoric.
While the president has already acted swiftly to dismiss a plethora of disloyal staff members and advisers in the White House, none have presented as severe of a threat to his agenda and his electoral prospects as has Powell.
The president is not one to be hoodwinked.
He needs to act as swiftly here as he has in past cases of disloyalty.
Stacy Washington is a decorated Air Force veteran, an Emmy-nominated TV personality, and the host of the nationally syndicated radio program "Stacy on the Right."